Obtaining a tourist visa in Saudi Arabia has become more accessible in recent years due to the country's increasing openness to tourism. A visa is required for non-Saudi nationals who are not visa-exempt and wish to travel to Saudi Arabia for tourism. Some nationalities must apply for tourist visas through the Saudi embassy or consulate. Fortunately, many tourists can apply for a Saudi tourist visa online by following simple steps.
Saudi Arabia has much to offer tourists, including fascinating historical and cultural sites, stunning natural surroundings, fantastic cuisine, and a warm and hospitable local population. In this article, we'll go into more detail about applying for a Saudi tourist visa.
Types of Saudi Tourist Visas
Saudi Arabia offers three types of tourist visas to visitors: e-Visa, visa on arrival, and consulate (sticker) visa.
The e-Visa is an electronic visa that can be obtained online before traveling to Saudi Arabia. This type of visa is suitable for travelers from countries that are eligible for a Saudi e-Visa and want to obtain their visa in advance.

The visa on arrival, as the name suggests, can be obtained upon arrival at the airport in Saudi Arabia. This type of visa is available to the same nationalities who can obtain an e-Visa, but is more suitable for last-minute trips and travelers who weren't able to obtain their visa before.

The consulate (sticker) visa is a traditional visa obtained by applying at a Saudi embassy or consulate in the tourist's home country well before arriving in Saudi. Applicants for this type of visa should plan as the processing time can take several weeks.
To guarantee a hassle-free journey, thoroughly reviewing the requirements for all types of visas is critical. Applicants should know that Saudi e-Visas and paper-based visas have different application procedures, costs, and documentation requirements.
Eligibility Criteria for a Saudi Tourist Visa
Some requirements must be met to be granted a Saudi tourist visa. The applicant must be a non-Saudi national. They must also have a passport valid for at least six months after arriving in Saudi.
Saudi tourist visa applicants must be over 18 years old to apply without a parent or legal guardian. The applicant's country is also a decisive factor, as some foreign nationals may be entitled to e-Visa or visa-on-arrival to Saudi. Some other nationalities must apply for a visa in advance through the traditional paper-based process. It's crucial to review the exact eligibility requirements for your nationality before applying.
Required Documents for Saudi Tourist Visas
To apply for a Saudi tourist visa, applicants are required to provide a range of documents. These required documents are subject to change depending on the applicant's nationality, travel purpose, and the type of visa they are eligible to apply for.
Documents for Saudi e-Visa include:
A passport that is valid for at least six months from the date of entry into Saudi Arabia.
A digital passport-style photo that is recent, clear, and in a JPEG format.
A valid email address where the applicant can be contacted and the e-Visa can be sent.
It's crucial to remember that not all nationalities qualify for a Saudi e-Visa. Therefore it's advisable to check the conditions before applying.
Documents for a Saudi sticker visa include:
A complete visa application form.
A passport or identity document that is valid for at least six months from the date of entry into Saudi Arabia.
Two passport-sized photos that are recent and clear.
A copy of the flight itinerary.
Proof of health insurance that is valid for the duration of the applicant's stay in Saudi.
A confirmed return airline ticket.
Depending on the applicant's place of citizenship, additional documents like a letter of invitation or evidence of accommodation may be required. Planning and applying well before the anticipated travel dates is vital because the sticker visa application processing period can take several weeks. A letter from an employer or bank statements may be required depending on the applicant's specific situation. To prevent any delays or rejections, it's crucial to thoroughly research the requirements for the visa being filed for and ensure that all required documents are included with the application.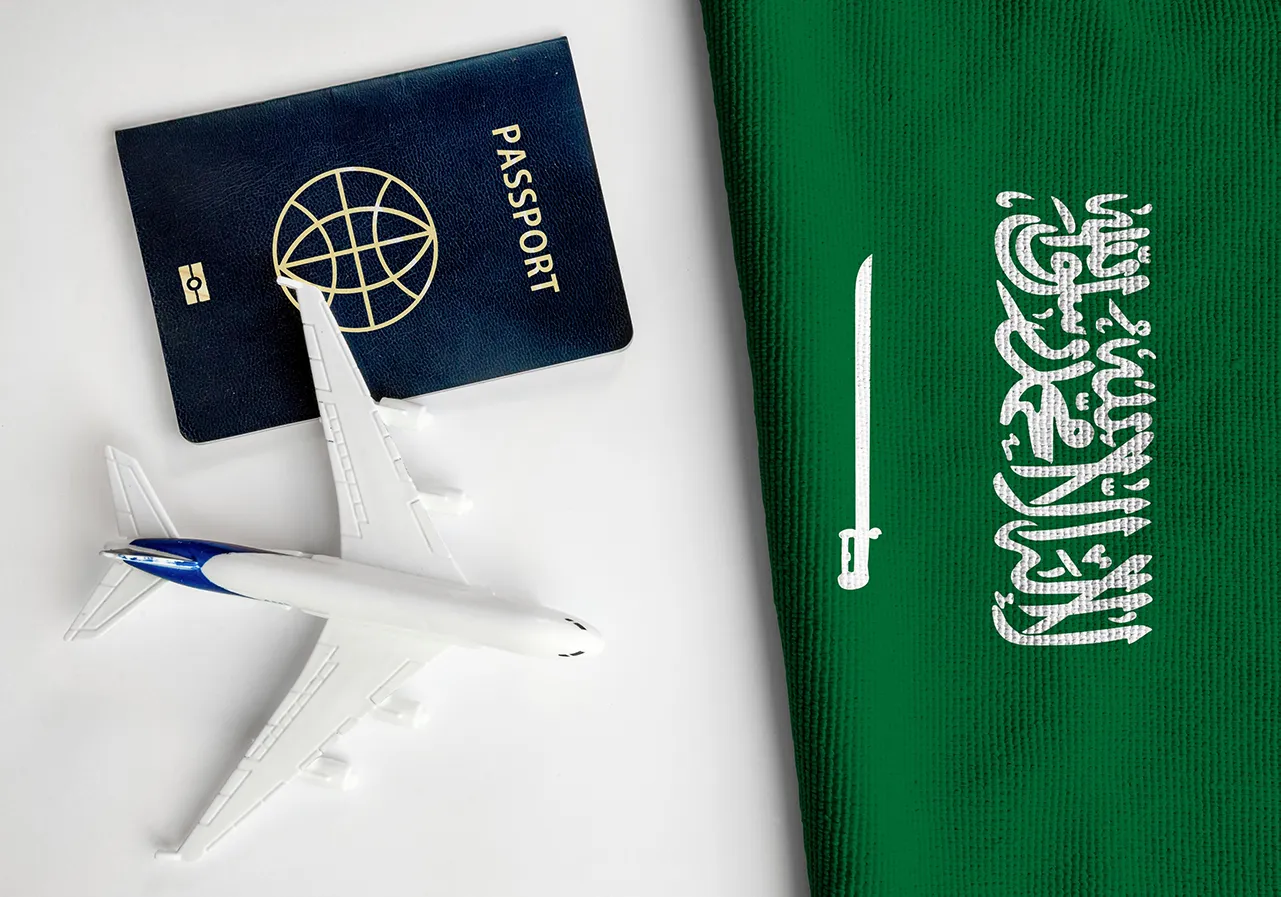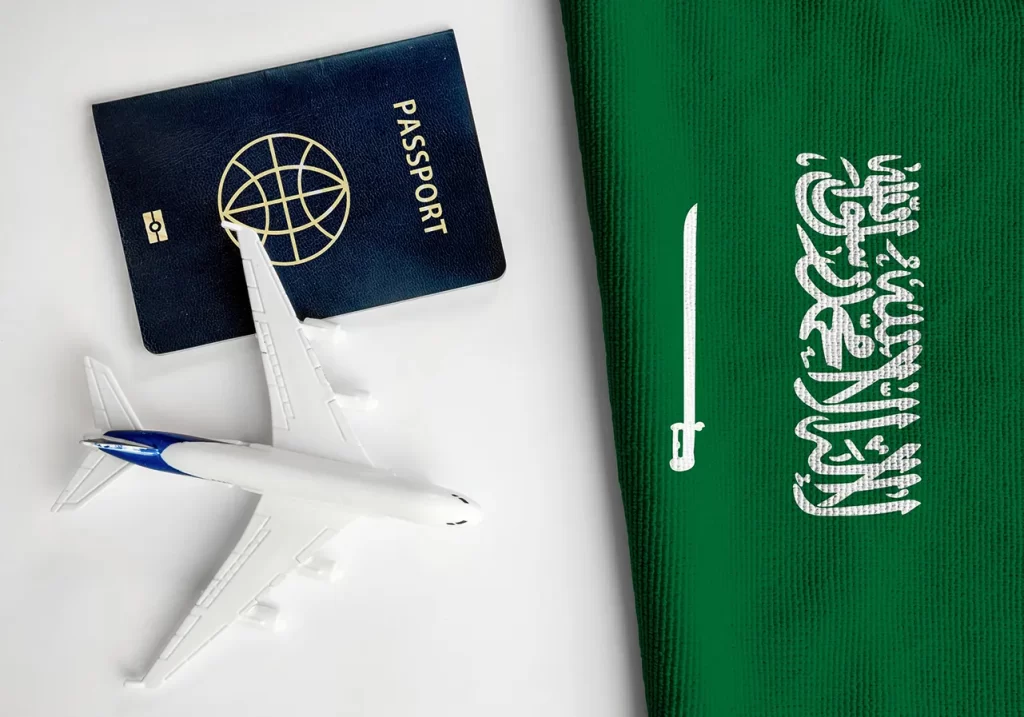 Saudi Tourist Visa Application Process
Applying for a Saudi tourist visa can be done through several straightforward steps. These steps are subject to change depending on the type of visa required and the applicant's nationality. However, for most applicants, the following basic steps will be required:
Determine eligibility for a Saudi Tourist Visa

Applicants should ensure they are eligible for a Saudi tourist visa and check the criteria for their unique visa type. This includes checking their nationality to see if they qualify for visa-free, visa-on-arrival access, an e-Visa, or a traditional paper-based visa. 

Submit the Saudi tourist visa application

Applicants must submit their tourist visa application to the correct portal depending on the visa type, nationality, and application method. Some applicants can complete an online visa application form, providing all necessary information and uploading any required documents digitally. Others must complete the manual process by submitting their visa application and documents at their Saudi consulate or embassy.

Pay the Saudi tourist visa fee

All applicants must pay a visa fee whether they are applying online or manually. This must be done with a valid debit or credit card for online payments. The fees associated with the visa will vary depending on the visa type and the applicant's nationality.

Receive a decision for the tourist visa

If approved, the Saudi tourist visa will be issued and delivered to the applicant electronically as a PDF or via a physical visa sticker in their passport, depending on the visa type and application method.
Applicants should carefully review the official visa application guidelines and instructions provided by the Saudi authorities before submitting their application.
Saudi Tourist Visa Processing Time
The processing time for a Saudi tourist visa can vary depending on several factors. Saudi authorities aim to process e-Visa applications within 24 hours, while sticker visas can take several weeks or up to a month. This timeframe is subject to change during peak travel seasons, holidays, or major cultural events. Processing times can also be influenced by errors or inaccuracies from the applicant's side. In this case, the authorities will request additional documentation, and there will be delays in processing the tourist visa.
Applicants should provide all necessary information and documentation accurately and completely to avoid any delays. They should also allow enough time between submitting their application and traveling for the authorities to process it. Expedited processing may be available for an additional fee, depending on the visa type, the applicant's nationality, and their unique circumstances.
Tips for a Successful Saudi Tourist Visa Application
Obtaining a Saudi tourist visa is ultimately up to the discretion of the Saudi immigration authorities. However, there are some steps that applicants can take to improve their chances of a successful application. First, it's essential to check the eligibility requirements and ensure they apply for the correct visa type.
Second, applicants should double-check that all their information is accurate and up-to-date. This includes contact information and travel details. This applies to required documents like passports and official documents as well.
Applicants can also apply early or well before traveling to allow enough time in case there are delays in processing or any unexpected additional requirements. Following the instructions and application steps carefully is a good way to ensure that processing the Saudi tourist visa goes smoothly.
In cases where an interview is required, applicants can prepare to answer questions about their travel plans and provide any additional documentation if necessary. This is a good way to increase the chances of obtaining a Saudi tourist visa and ensure a smoother and more efficient application process.
Conclusion
In summary, obtaining a Saudi tourist visa is important for those wishing to visit Saudi Arabia. Different types of visas are available, and applicants must meet eligibility criteria and provide the required documents to apply. The visa application process involves filling out an online form, submitting documents, and paying a fee. Processing times can vary, so applying well before travel dates is important. By providing accurate information and following instructions carefully, applicants can increase their chances of obtaining a visa. Ultimately, obtaining a Saudi tourist visa is essential to ensure a smooth and enjoyable travel experience in Saudi Arabia.