Saudi Arabia is a geographically diverse country with various terrains to explore. It is a favorite amongst outdoor enthusiasts for one-in-a-lifetime adventures and incredible treks. Intrepid travelers from all over the world come to Saudi Arabia each year to hike and camp in some of the country's renowned desert locations. With a huge range of trekking trails in Saudi Arabia, there are options for everyone from beginners to experts. 
The Saudi Arabia tourism community has been proactive about designing treks through some of the best parts of the country. Today, travelers can visit lava fields, climb stunning mountains, and wander through ancient valleys. In addition to trekking, they can experience a variety of sporting and leisure activities unique to a desert ecosystem. 
This article will highlight some great spots for desert trekking trails in Saudi Arabia and offer tips for making the most of the journey!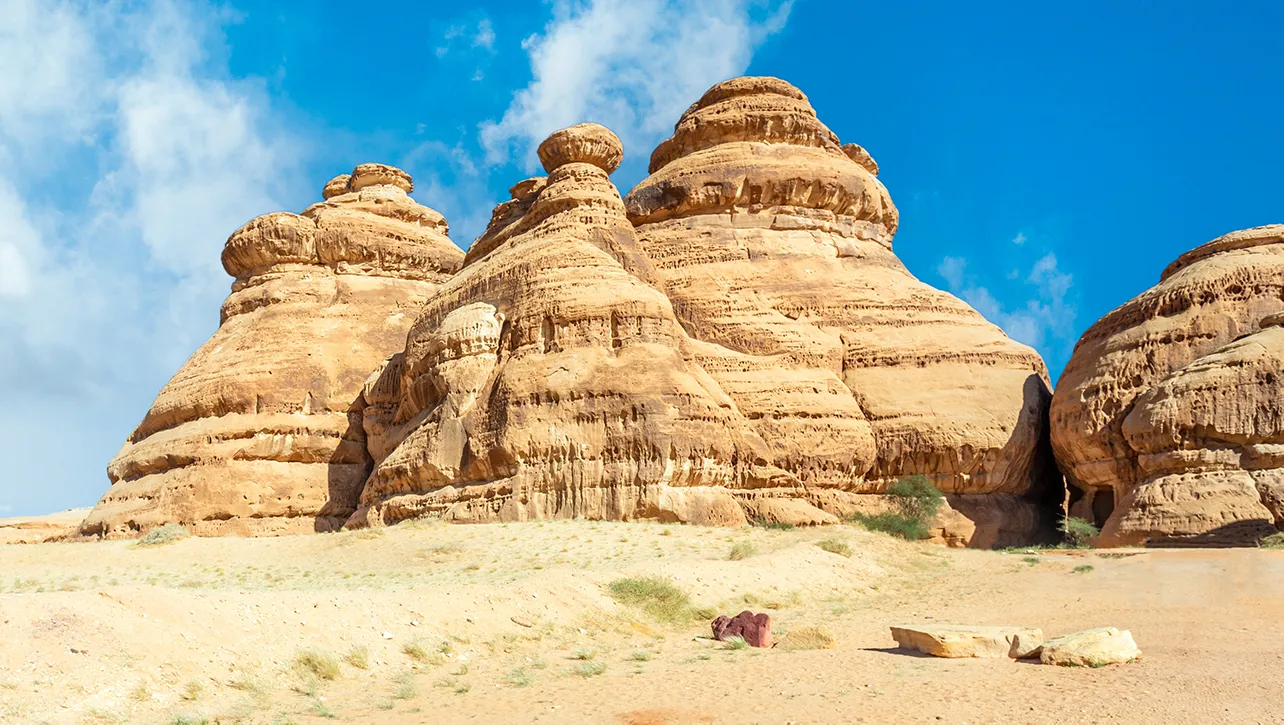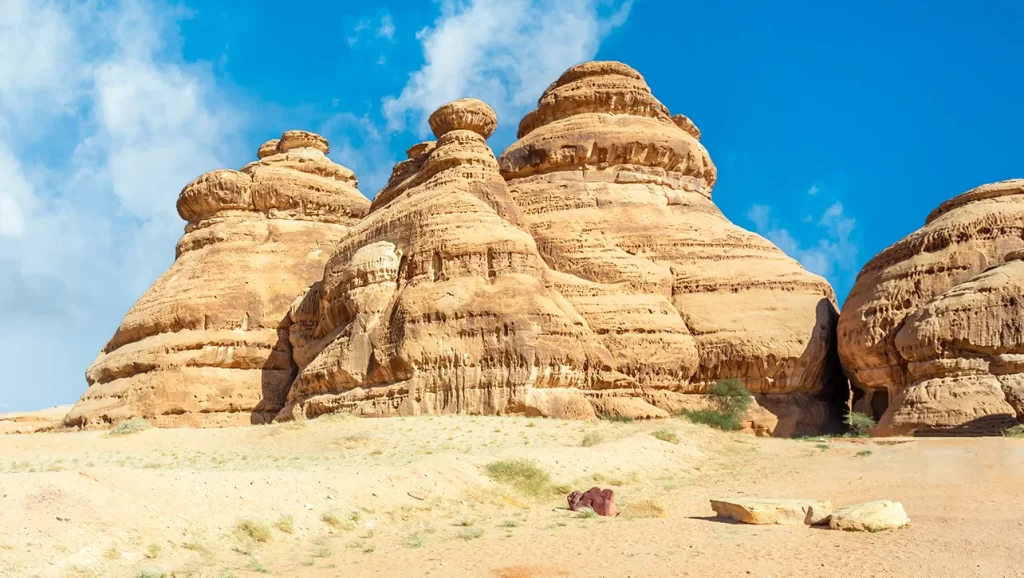 Al Ula
Home to an ancient city currently being excavated, Al Ula has long been a popular spot for desert trekking in Saudi Arabia. Visitors can experience the serenity of Al Ula Mountain while exploring desert canyons. From the trail, there are views of ancient volcanic rock and petroglyphs from the Lihyanite and Dadanite periods. There are also the Lion Tombs of Dadan nearby.
During the winter, trekkers will spot pools of water along the way, so it's important to have safety gear and equipment for swimming. Hiking in Saudi Arabia is a popular activity to do at night because of the stargazing. Al Ula is a famous Hidden Valley night trek destination through the starlit canyons.  The best time to visit is between October and April.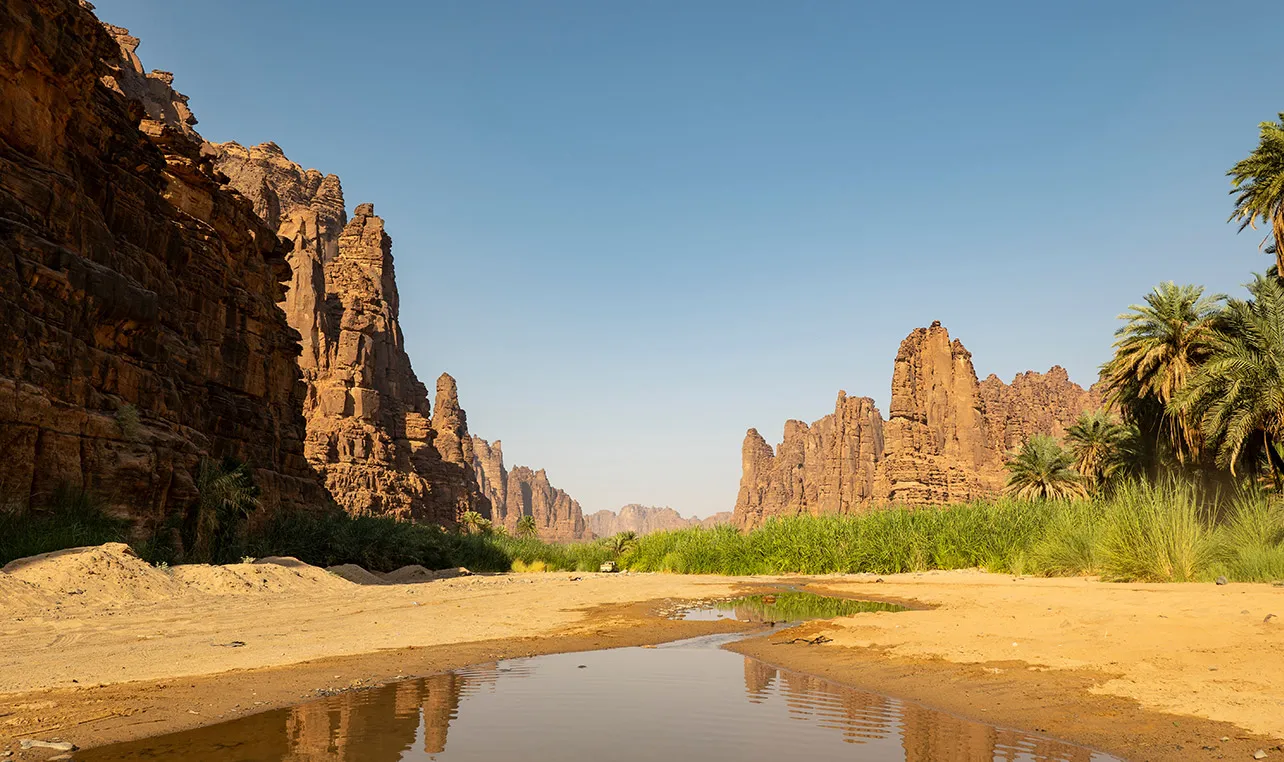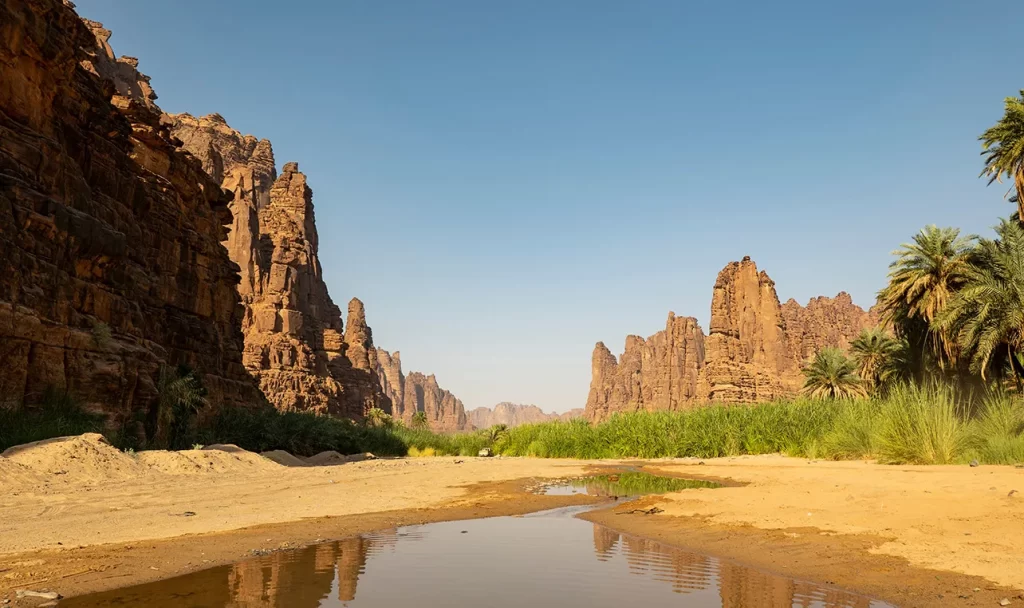 Wadi Al Disah
Also located in northwestern Saudi Arabia, Wadi Al Disah is a desert valley called "the valley of palm trees." The valley entrance is 260 kilometers from the region of Tabuk and must be accessed by driving to the small village of Al Disah.
The valley is known for being one of the most beautiful spots in the Kingdom of Saudi Arabia for the contrasting sandstone pillars and lush valley floor. It is home to many ancient artifacts and sites from the Nabataean era. The best time to go to Wadi Al Disah is between November and March when the trail is accessible.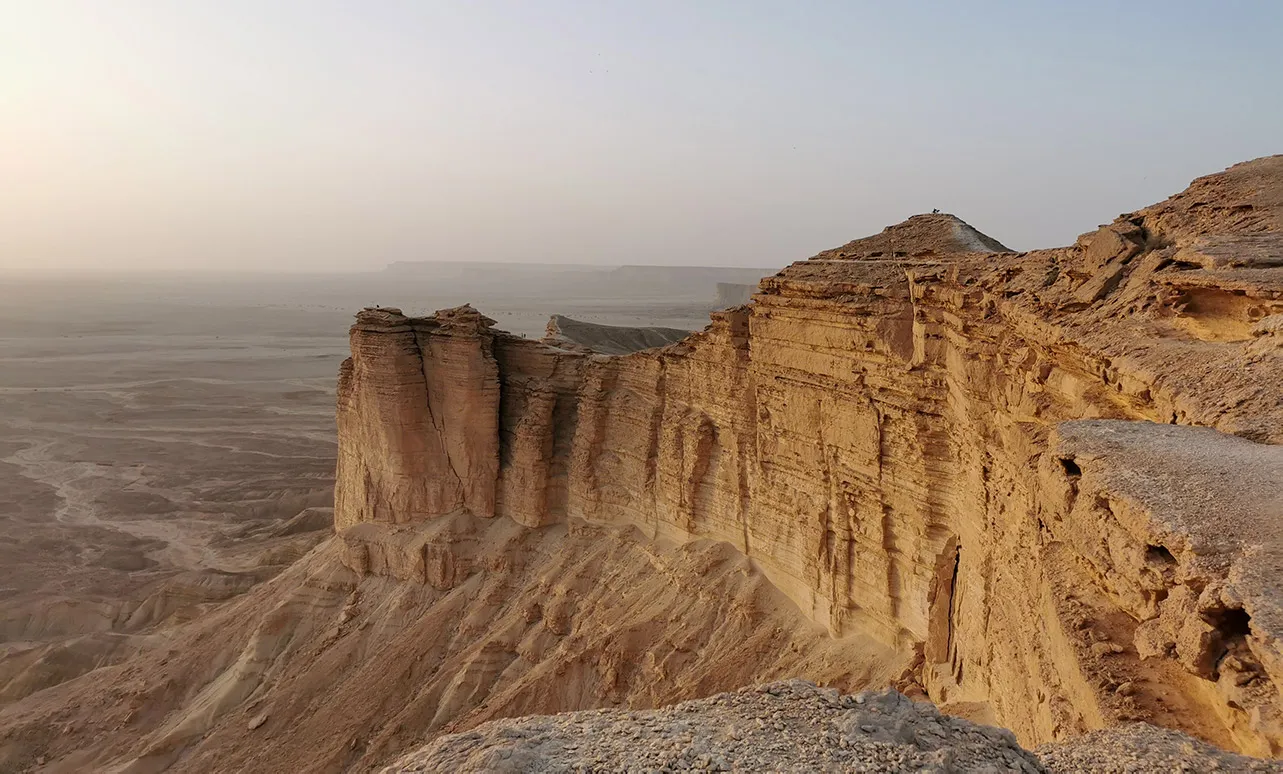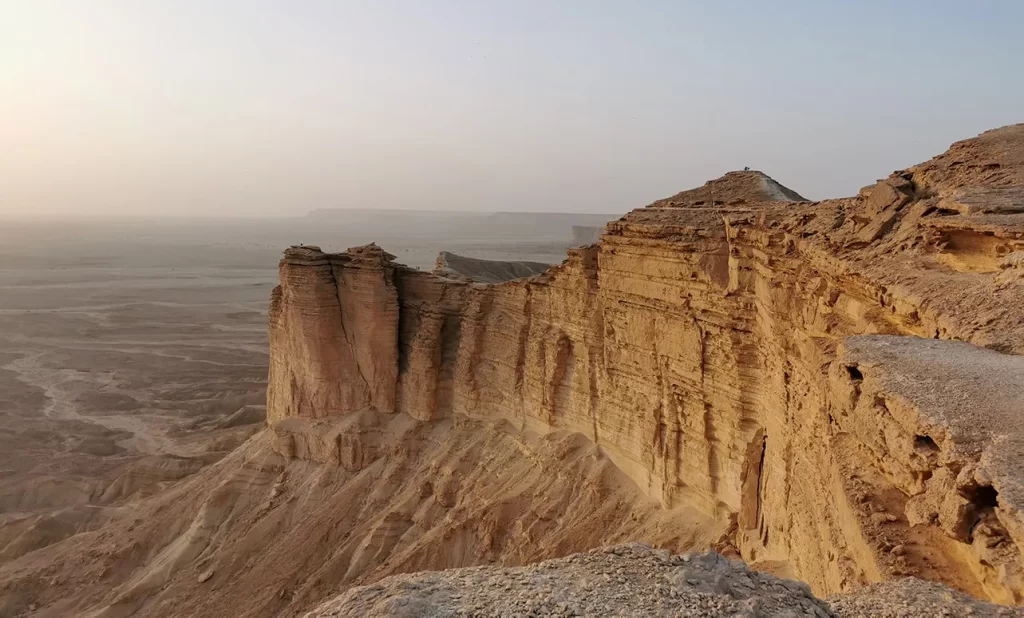 The Edge of the World
Some travelers prefer to go hiking in Saudi Arabia near a major city like Riyadh and visit trekking destinations nearby. This is a great option as there are many amazing desert treks near Riyadh and other major cities. Jebel Fihrayn, or "The Edge of the World," is a great example. Located in the Acacia Valley, just 56 miles (90 kilometers) northwest of Riyadh, the Edge of The World is a 300-meter-high cliff that can be reached by trekking up a desert trail to reach the top.
While slightly more strenuous than a valley trek, the climb is worth the unforgettable view of the desert stretching out below. Travelers can reach Jebel Fihrayn by car and trek up to the view. Trekkers should plan to watch the wonderful sunrise or sunset from the peak. It does get hot near the site, so travelers should plan to visit between November and June. Due to the amount of trekking involved to reach the summit, It is not recommended for families with young children.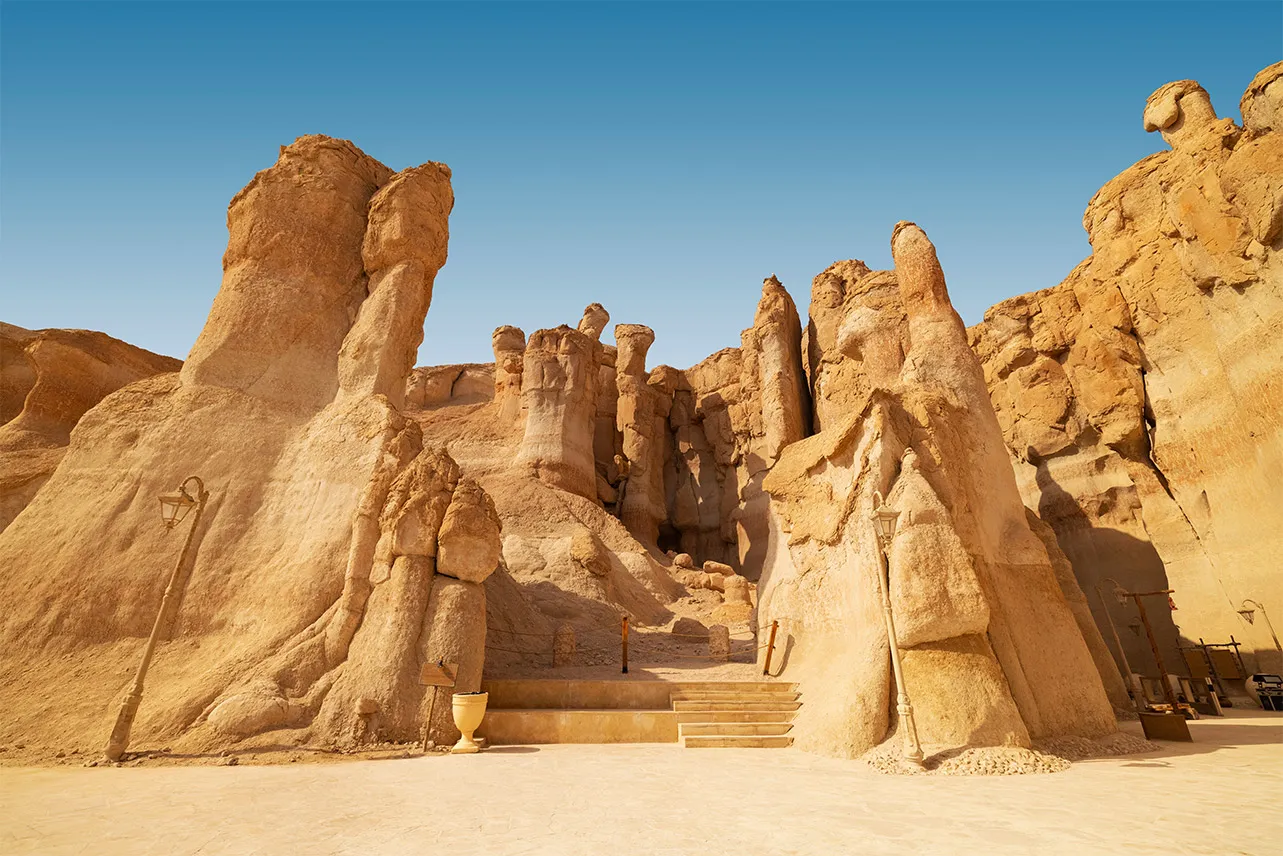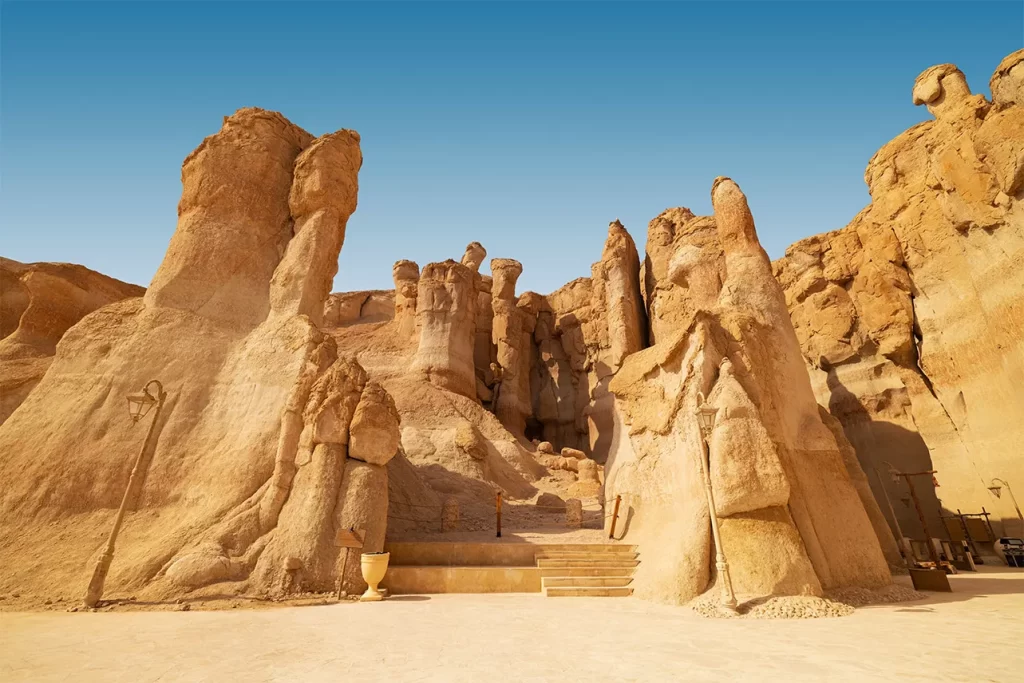 Al-Ahsa Oasis (Wahat Al-Ahsa)
For those who have dreamed of seeing a real desert oasis, Al-Ahsa Oasis will not disappoint. Lined with more than 3 million palm trees, the oasis is home to natural hot and cold springs, ancient rock formations, and plenty of trekking trails. The site is close to the city of Dammam, near Al Hofuf, so trekkers will be able to stock up on supplies. The nearby Al-Ahsa National Park features some incredible caves that travelers can explore. They can also climb up the Al Qarah Mountain to see Al-Ahsa Oasis from a bird's eye view.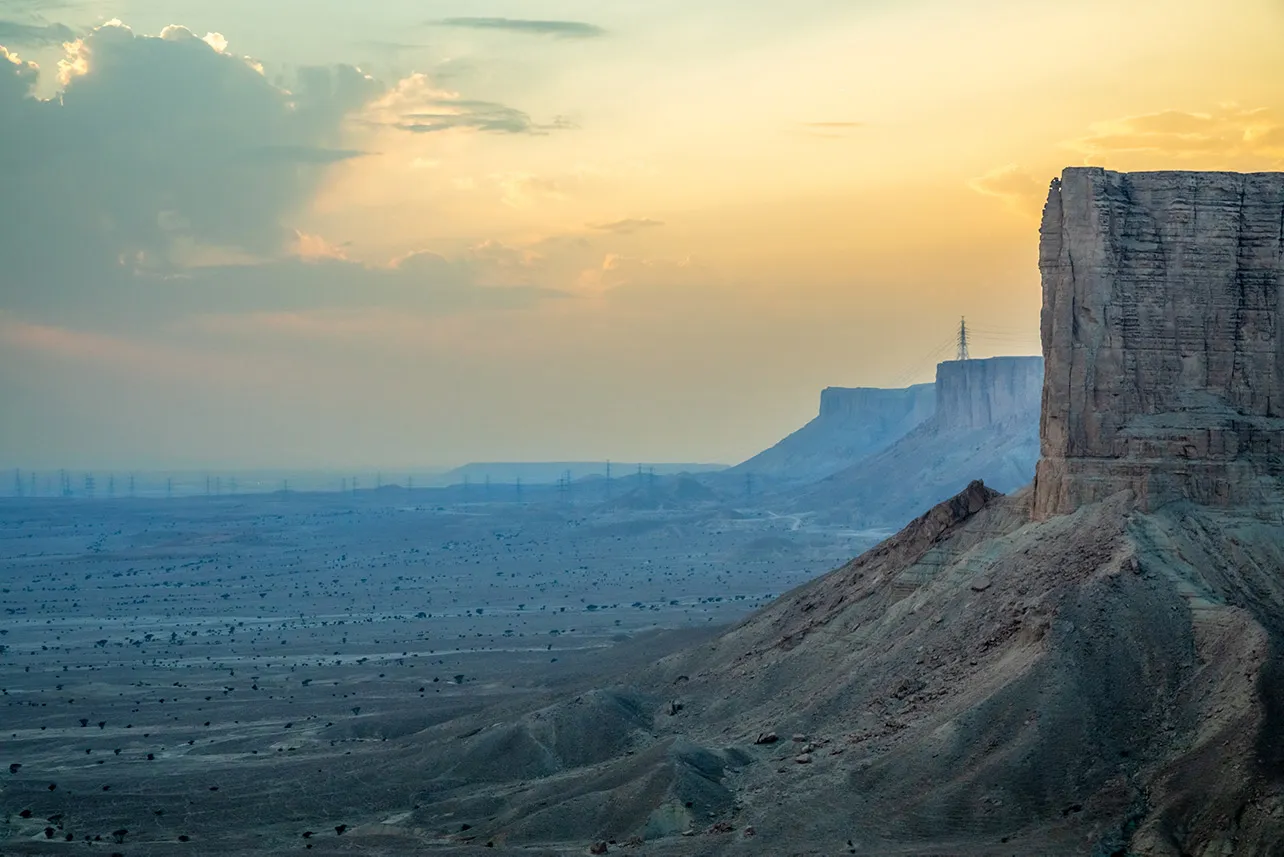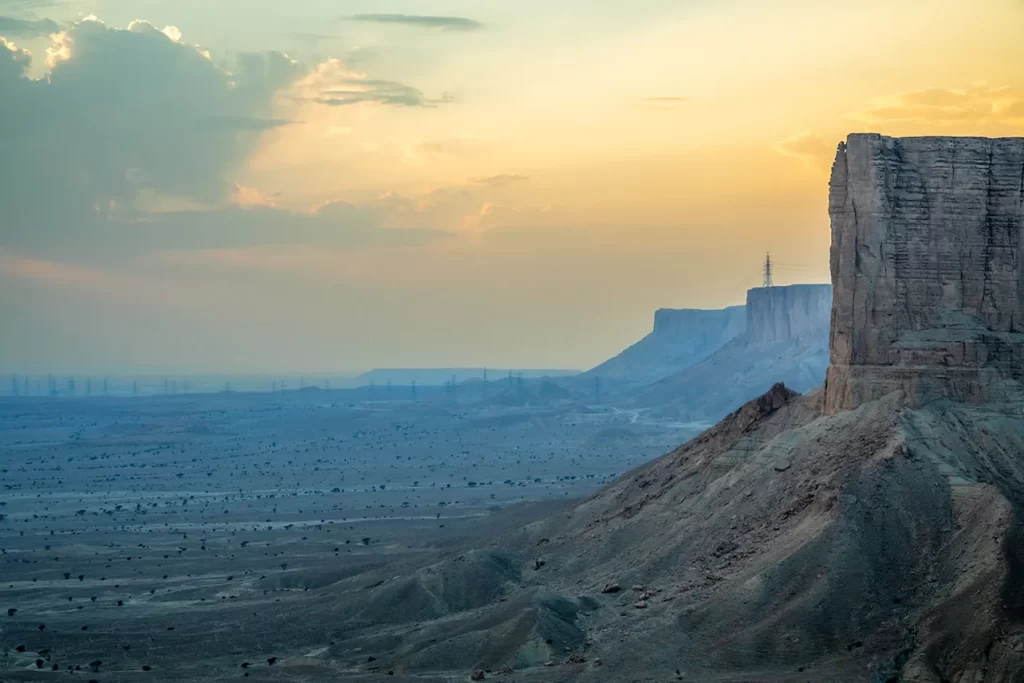 Khararah National Park
A trip to Saudi Arabia would be incomplete without a visit to the rolling sand dunes. Khararah National Park is one of the best places to do so and is very close to Riyadh. Travelers can hire a driver through a Saudi Arabia tourism office or take a passenger vehicle to drive an hour southwest of the city, where they can witness jaw-dropping rock formations, red sand dunes, and unusual wildlife.
Nearby is the Tuwaiq escarpment, a rugged landscape stretching nearly 500 miles through the country's center. Many adventurous travelers have been known to take their SUVs off-roading into this area, with safety precautions, to witness the peaceful desert landscape.
The park is a great spot for outdoor activities like trekking, kite flying, sand surfing, and quad biking. Families will often be seen having picnics near Khararah Lake, home to some amazing bird species during the rainy season.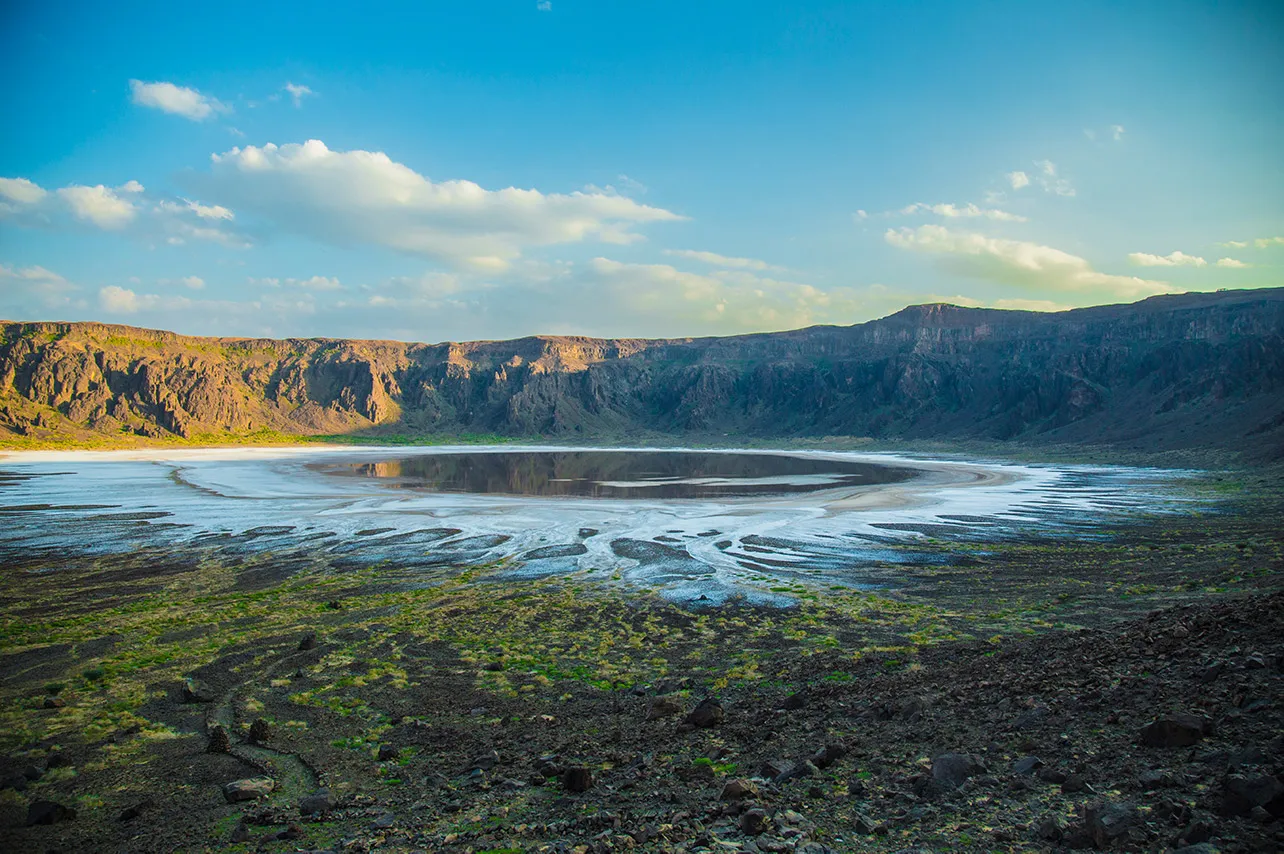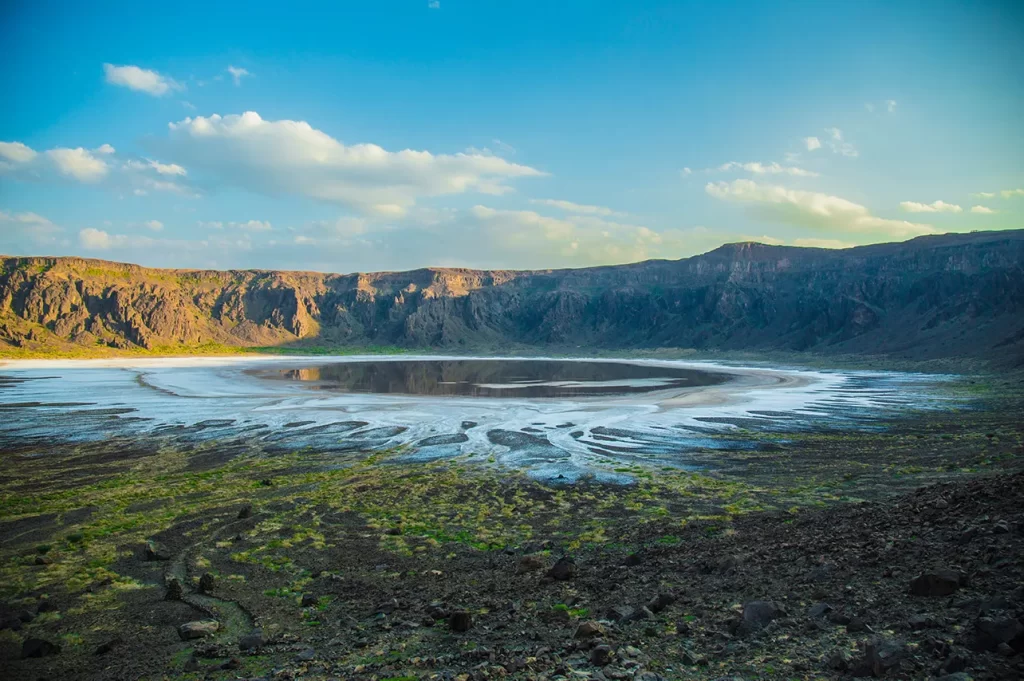 Wahba Crater (Al-Waba Crater)
Visitors looking for a dramatic stargazing experience can take an overnight trip to the spectacular Wahba Crater. This is a Saudi Arabian treasure and offers amazing trekking. The Crater is 820 feet (250 meters) deep and full of dramatic volcanic lava fields. It's a remote location, so trekkers should have plenty of desert camping supplies to stay the night.
While it is more intensive than other short trips, the stargazing alone is worth the extra planning. Travelers can opt to hire a driver from Jeddah or Taif using one of the Saudi Arabia tourism offices. Like other sites, the optimal time to go is between November and June. It is possible to visit in the summer but temperatures can reach up to 45°C! 
Desert Trekking Safety Tips
Although desert trekking trails in Saudi Arabia are safe and accessible to nearly all travelers, there are still some safety guidelines that all trekkers should follow. The following are some precautions that desert trekkers should take before going hiking in Saudi Arabia:
Plan ahead and research the climate and local cities near the trekking site.
Bring trekking boots that have been broken in and are comfortable, along with the appropriate clothes for the weather.
Pack a water bottle and plenty of snacks for each trek. If hiking in Saudi Arabia with a professional company or guide, they may provide meals and supplies for you.
Know the route and follow all guidelines according to the local authorities. Deserts can be very remote places, so it's important to follow the paths that are laid out.
Traveling in a group can often be safer and much more convenient. If anything happens, there is safety in numbers.
Prepare a first aid kit and any emergency supplies that might be helpful. This could include plenty of sunscreen and insect repellent as well.
Be sure to prepare for extreme heat, cold, or rain, depending on where you plan to trek. Desert temperatures can vary drastically throughout the year. Research the weather before traveling.
Trekking trails in Saudi Arabia are a wonderful way to experience the unique ecosystems and landscapes of the desert. With many diverse landscapes and beautiful scenery, trekkers of all levels can find the perfect adventure to satisfy their desert curiosity. Researching the trekking destination and planning can go a long way to ensure everything is prepared in advance. Hiking in Saudi Arabia is well organized by the tourism industry. Supplies and guides can be found in major cities, so travelers won't be left unprepared or stranded. With a wonderful local tourism infrastructure and stunning natural sites, a trip to Saudi for desert camping and trekking will surely be the trip of a lifetime!